Fondamenti di VideoNistagmoScopia: il nistagmo spontaneo
18:00 (CEST)
Webinar
Balance
Italiano
Register Now
Fondamenti di VideoNistagmoScopia: il nistagmo spontaneo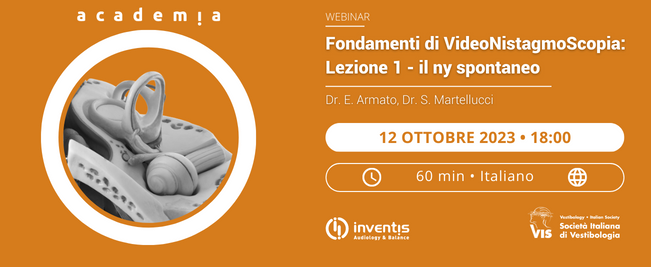 Enrico Armato
ENT physician
Enrico Armato was ENT medical director at ULSS3 Veneto Region. He has over 35 years of experience as an ENT specialist, with a focus on neck surgery. His true passion is otoneurology. For many years, he has been interested in the functional assessment of vertiginous patients. He is author of the book 'The Video Head Impulse Test - Theoretical and practical aspects' and co-author of numerous articles in national and international literature. He is also a contract professor with the University of Padua, Department of Neuroscience, Degree Course in Audiometric Techniques. Enrico has been collaborating with Inventis for several years and he is a reference figure for everything related to the vestibular world.
Salvatore Martellucci
ENT medical director
Salvatore Martellucci is ENT medical director at the Latina Hospital. He deals with the treatment of ear, nose and throat pathologies in adults and children but also with the diagnosis and treatment of sleep apnoea, an increasingly common pathology associated with high cardiovascular risk. In addition to his outpatient activities and endoscopic diagnostics, he performs surgery in hospital and in private practice. Dr. Martellucci's main fields of interest are functional rhino-sinus surgery, cosmetic surgery of the nose, endolaryngeal phonosurgery, snoring and obstructive sleep apnoea surgery. He is a speaker at various congresses, seminars, webinars and author of publications in national and international scientific journals.