Masterclass • L'apparato vestibolare: fisiopatologia, semeiotica e clinica - Lezione 4
09:00 (CEST)
Grand Hotel Vanvitelli (CE)
Balance
Italiano
Register Now
Masterclass • L'apparato vestibolare: fisiopatologia, semeiotica e clinica - Lezione 4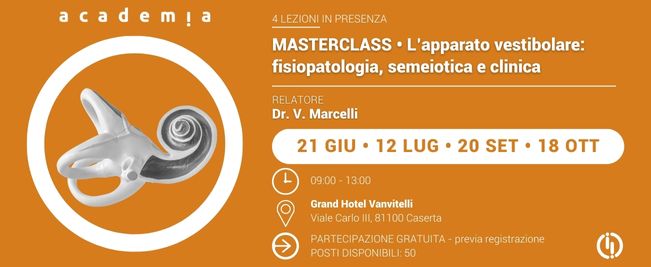 La vestibolopatia riveste un ruolo prominente nell'attuale scenario sanitario sia per il gran numero di pazienti colpiti ogni anno, sia per le implicazioni della vestibolopatia stessa, determinata da patologie spesso banali ma a volte particolarmente gravi. Se nella maggior parte dei casi, e soprattutto in acuto, la valutazione non strumentale è sufficiente a gestire correttamente il paziente, in alcuni casi complessi il ricorso alla vestibologia "strumentale" è indispensabile. Ci si riferisce in particolare alla vestibolopatia cronica ma anche alla vestibologia medico-legale, per la quale la quantizzazione del danno è indispensabile e non può prescindere da una valutazione strumentale.
La Masterclass - L'apparato vestibolare: fisiopatologia, semeiotica e clinica si pone l'obiettivo di fornire le basi teoriche e pratiche per la corretta gestione del paziente vestibolopatico acuto e cronico. 
Consisterà di 4 lezioni in presenza che si svolgeranno presso Grand Hotel Vanvitelli (Viale Carlo III - 81100 Caserta) e saranno gestite dal Dr. Vincenzo Marcelli, specialista ambulatoriale, responsabile dell' ambulatorio di Audiologia e Vestibologia dell'UOC ORL dell'ospedale del Mare, ASL-NA 1, Napoli e Professore a contratto presso la Facoltà di Medicina e Chirurgia, Università degli studi di Napoli "Federico II".
Ecco i dettagli della quarta lezione: 
18 Ottobre 2023, 09:00-13:00
La semeiotica strumentale
La semeiotica strumentale
o    Il video-HIT
Prove pratiche
IMPORTANTE
Gli specialisti partecipanti sono invitati a presentare, nel corso di ogni lezione, casi clinici visionati durante la propria pratica quotidiana. Sarà infatti dato ampio spazio al dibattito tra esperti  (e non) del settore. 
La partecipazione all'intero corso è gratuita, previa registrazione. I posti disponibili sono 50. 
Iscriviti ora! 
Vincenzo Marcelli
Outpatient Specialist
Outpatient Specialist, Head of the Audiology and Vestibology Outpatient Clinic of the UOC ORL Hospital del Mare, ASL-NA 1, Naples and Adjunct Professor at the Faculty of Medicine, University of Naples 'Federico II'.