Neuroaudiologia: prossima frontiera del settore audioprotesico?
18:00 (CEST)
Webinar
Audiology
Italiano
Register Now
Neuroaudiologia: prossima frontiera del settore audioprotesico?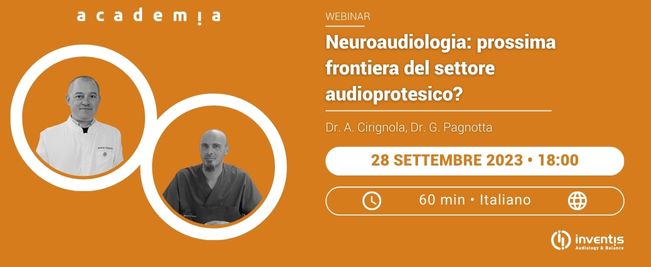 Il post applicazione protesica, seppur fase fondamentale del processo riabilitativo, è ancora un territorio inesplorato o quantomeno poco discusso.  
 
Nel corso del webinar i clinici audioprotesisti Dr. A. Cirignola e Dr. G. Pagnotta parleranno del post applicazione, descrivendo come il Matrix Test e le prove di Speech Tracking siano strumenti fondamentali che consentono all'audioprotesista di analizzare e lavorare sugli aspetti riabilitativi di una protesizzazione. 
Ma non solo! Saranno esposti i risultati di una ricerca condotta dai clinici presso i propri centri acustici, la quale vede il miglioramento delle capacità uditive dei pazienti (valore SRT) senza protesi (UNAIDED) nel corso della riabilitazione (6 e 12 mesi). Segno che la riabilitazione acustica funziona! 
 
La domanda sorge spontanea: riabilitando la capacità uditiva stiamo riabilitando anche quella cognitiva?
Entriamo così in una fase della riabilitazione acustica la quale vede un incontro tra neurologia e audiologia: la neuroaudiologia.

Andrea Cirignola
Hearing Care Professional
Andrea Cirignola is Hearing Care Professional and administrator of Centro Acustico Lecco, member of the ANAP scientific committee and specialised in the acoustic rehabilitation of presbyacusis.
He is the first Italian professional to be certified by the University of Oldenburg for the Matrix Test. 

Giorgio Pagnotta
Hearing Care Professional
Giorgio Pagnotta graduated in Hearing Aid Techniques in 2005 from the University of Bari, where he subsequently obtained a master's degree in Child Acoustic Prosthesization and Rehabilitation and a master's degree in Work and Organisational Psychology.
He works at Centro Progetto Udito Sas in Trani and he is also Oldenburg certified for the Matrix test.