SYNAPSYS VHIT: conceptos básicos
18:00 (CEST)
Webinar
Balance
Español
Register Now
SYNAPSYS VHIT: conceptos básicos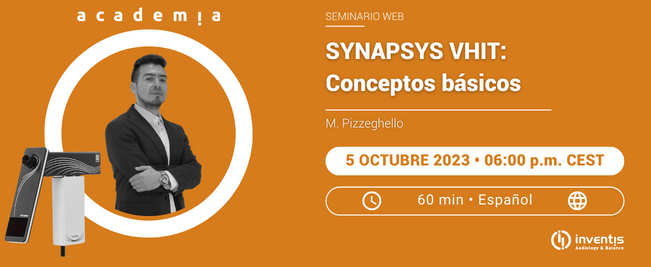 La prueba del Video Impulse Test (VHIT) permite investigar los seis canales semicirculares en alta frecuencia. Mediante movimientos rápidos de la cabeza del paciente, el VHIT permite identificar los movimientos sacádicos encubiertos durante y después del movimiento, cuantificando así la ganancia del VOR (es decir, la relación entre la velocidad de la pupila y la de la cabeza).
Diseñado y desarrollado por el doctor Erik Ulmer, Synapsys VHIT es un producto único en el campo del Balance gracias a un revolucionario sistema de cámara remota.
El software con un control remoto de la cámara detecta la dirección de los movimientos de la cabeza del paciente: el sistema reconoce automáticamente el plano investigado. Se requieren 5 maniobras por canal para obtener un resultado confiable. Esto le permite probar los 6 canales semicirculares en menos de 5 minutos. El software también ofrece la oportunidad de analizar los gráficos de posición (posición de la mirada con respecto a la posición de la cabeza) y reevaluar posibles maniobras no aceptadas gracias a la reproducción a cámara lenta del vídeo de la maniobra.
Durante el seminario, Mario Pizzeghello, especialista de producto de Inventis, brinda instrucciones sencillas para realizar la prueba de video impulse test con el sistema Inventis SYNAPSYS VHIT.
Mario Pizzeghello es Licenciado en Educación Física en la Universidad de Playa Ancha (Chile) y en Ingeniería Biomédica en la Universidad de Padua (Italia). Importante referencia para la asistencia postventa, actualmente desempeña la posición de especialista de producto para Inventis, con especial enfoque en el mundo del Balance y la Adaptación Audioprotésica. Su gran conocimiento técnico y su capacidad de comunicación le han convertido en protagonista, para Inventis, de numerosas ferias nacionales e internacionales.

Mario Pizzeghello
Product specialist
Mario Pizzeghello holds a degree in Physical Education from the University of Playa Ancha (Chile) and in Biomedical Engineering from the University of Padua (Italy). An important reference for after-sales assistance, he currently holds the position of product specialist for Inventis, with a special focus on the world of Balance and Hearing Aid Fitting. His great technical knowledge and his communication skills have made him the protagonist, for Inventis, of numerous national and international trade fairs.