SEP 2022 ● 70th Annual IHS Convention & Expo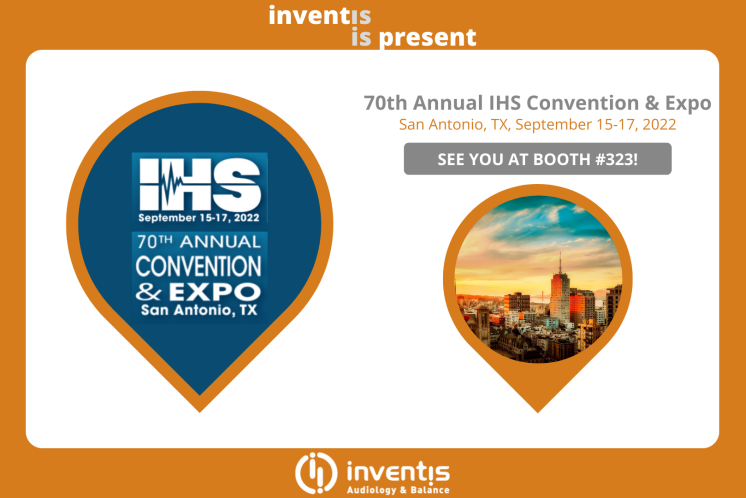 70th Annual International Hearing Society Convention & Expo


San Antonio (TX), September 15-17, 2022
The International Hearing Society is an association that represents hearing healthcare professionals worldwide.
The 70th Annual IHS Convention & Expo will be held from September 15 to 17 at the JW Marriot San Antonio Hill Country Resort & Spa, in Texas.
The Convention's busy schedule includes seminars, practice sessions and so much more!
This is a unique opportunity to grow your clinical skills, connect with colleagues and professionals within the field and get to know the latest innovation.
On this occasion Inventis will be at the forefront to show you our innovative audiological solutions, with a main focus on the Inventis Trumpet and Inventis Harp Plus.
Trumpet is an advanced Real Ear Measurement system but also a Diagnostic Audiometer. It is the best combination unit in terms of portability, convenience and size. 
Its small lightweight probes, its built-in amplified speaker and the easy of use of Maestro software, which controls the unit, simplify the verification process, save your time and help you provide quality fittings that your patients will appreciate.
Harp Plus is an advanced diagnostic audiometer, the ideal choice for a wide range of users thanks to its top-level features combined with ease of use and portability.
Hybrid technology (can be operated through the PC) - Built-in thermal printer (optional) - Internal flash memory for the speech material - Additional tests such as TEN test, QuickSIN™, two-channel Master Hearing Aid beside the standard ones - are just a few of the features that make Harp Plus a unique audiometer for audiologists, clinics and hospitals.
See you at booth #323!
Click here for all the information about the convention and to have a look at the full agenda.